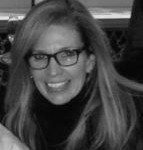 Marci Lash is a marketing communications professional with more than 25 years of experience in media relations, writing, relationship marketing and strategic planning and implementation. Her agency and corporate background focuses on healthcare, software and state government.
Marci is currently working with the University of Michigan's top ranked School of Social Work, promoting their nationally recognized initiatives in the social determinants of public health. She serves as editor of Ongoing, the School of Social Work magazine for both print and electronic audiences. She works closely with faculty and specializes in interpreting scholarly research for a variety of audiences.
In 2000, she established the marketing and communications department for the University of Michigan Cardiovascular Center, where she branded the full-service cardiovascular center dedicated to research, education and clinical care. In addition to directing strategic planning of comprehensive marketing efforts, she tripled national broadcast media outreach, created and launched the center's website and tripled viewer hits within two years.
She applies her healthcare writing expertise to publications geared toward readers searching for the latest medical developments including Discover magazine and Lluminari.com. Marci managed corporate communications for clients including Microsoft, PTC Global, Ford Aerospace & Communications Corporation and Audi of America.